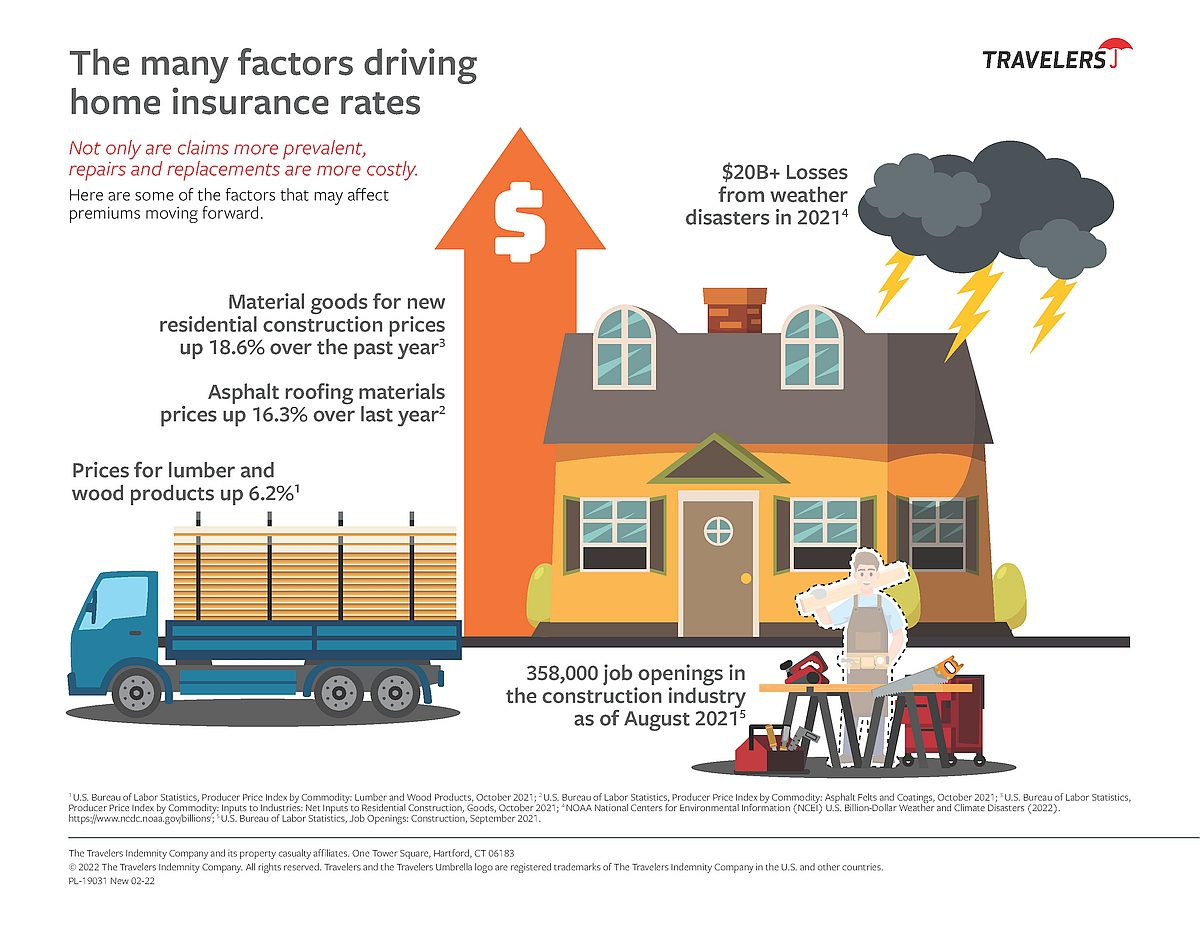 Why Homeowner Insurance Rates Are Increasing
Home insurance rates are calculated based on several underlying factors. Though your choice of coverages does impact your premium, the most important factor is the estimated cost to rebuild your home. Unfortunately, 2022 has seen a drastic spike in homeowner rates, and in many cases, it's not the result of something you did. In fact, much of it may be totally out of your control. Let's explore some of these factors, and how they may be affecting your premiums moving forward. 
Inflation
Perhaps the biggest driver of higher home insurance rates is inflation. A part of your premium is based on how much it would cost to rebuild your property if there were a total loss (such as a fire or other covered catastrophic event that occurred). These reconstruction costs fluctuate often, and they rely heavily on economic factors and market prices of both materials and labor. As these costs rise, insurance carriers adjust your coverage amount to reflect these local factors.
Supply chain disruptions
As we all know, supply chains have been disrupted across the board, and the construction industry has been one of the hardest-hit sectors. Building materials are more expensive, labor is more expensive, and as a result, repair costs are more expensive.
Labor shortages
Along with supply chain issues making materials harder to find, labor shortages have made skilled workers harder to find as well. When fewer people do any given job, including home repair and construction jobs, pay rates often increase as an incentive.
Changes in severe weather
Local weather and environmental conditions have a big impact on your premiums. When catastrophes like wildfires, wind, or hail are on the rise in your area, it increases the risk to your property, and insurance carriers typically increase rates in accordance. Upticks in damaging weather conditions like hail, wind, tornadoes, and hurricanes can also cause a rise in premiums.
Your aging home
As your property gets older, it also becomes more vulnerable to damage and loss. Plumbing, HVAC, and electrical systems are typically more liable to break down (or even cause fires or other issues), and structural components like the roof, foundation, and other features can be more easily damaged by weather, as well as general wear and tear. As a result, your insurance carrier may increase your premiums to account for these added risks.
Homes are more expensive to build and repair
The price for a new home to be constructed has risen significantly, not to mention the cost to maintain or repair an already existing home. In many cases, the "market value" of a home may be significantly less than the current cost to rebuild it. Older homes see this often. Due to the type of materials once commonly used in older homes, replacing those materials can be much more pricey and challenging. In addition, to try and sell an older home that needs work is not as easy as it once was either, thus driving the market value of these homes down as a result. 
What Are Your Options?
Ask about discounts you might be missing
Insurers often offer discounts for things like receiving your bill through email, performing upgrades or renovations, or adding additional protective devices to your home or property. Installing safety features like smoke detectors, fire alarms, water sensors, interior sprinkler systems, home security systems, or smart home technology could offer additional savings. Ask your agent if you may qualify for a discount.
Increase your deductible
A higher deductible means you'll pay more out of pocket if you need to file a claim, but it's a guaranteed way to lower your premium. In addition, instead of filing a series of small claims, only file a claim when it is absolutely necessary. Even a minor claim can have a significant impact on your premium. Bottom line, homeowner policies are designed to protect you from severe, unexpected, and catastrophic losses. Not to replace your TV that gets knocked over, or a minor leak under the kitchen sink. In fact, it's not a bad idea to discuss a potential claim with your agent before deciding to file it or not. 
Get quotes from other insurers
Shopping around for new quotes is another way to try and save. At AFS we have the ability to compare your rates with numerous different insurance companies. One of the many advantages to working with an independent agent!
Work with your agent
While many factors are impacting the overall cost of home insurance, our agents remain committed to ensuring that you have the coverage you need at a competitive price. Should you have any questions at all about your coverage or your rates, please feel free to contact us. We can assess your current coverages, explore possible discounts, and help answer any questions you may have.
---
For more valuable insurance tips and info, please subscribe to our blog!
This material is for general informational purposes only. All statements are subject to the terms, exclusions and conditions of the applicable policy. In all instances, current policy contract language prevails. Products, services and discounts referenced herein are not available in all states or in all underwriting companies. Coverage is subject to individual policyholders meeting our underwriting qualifications and state availability.