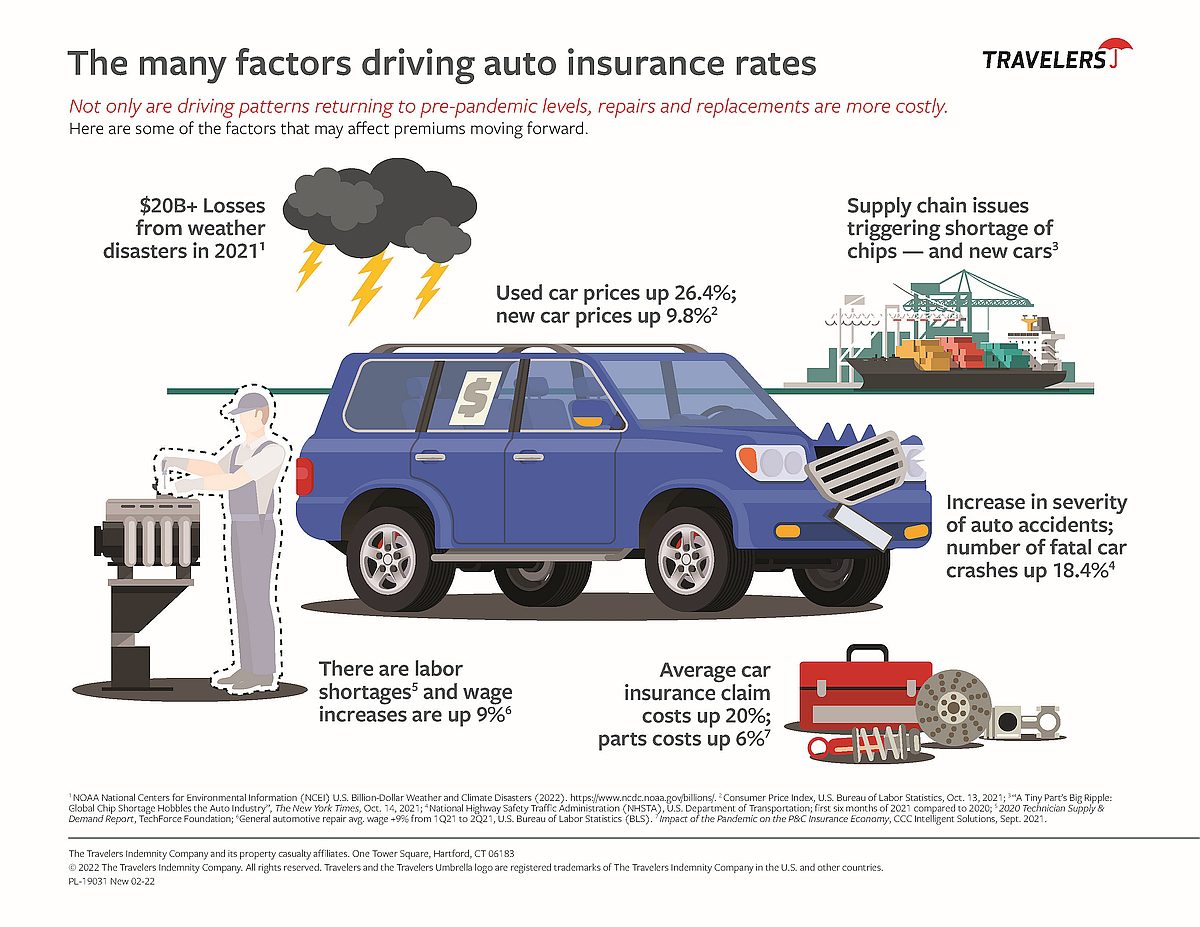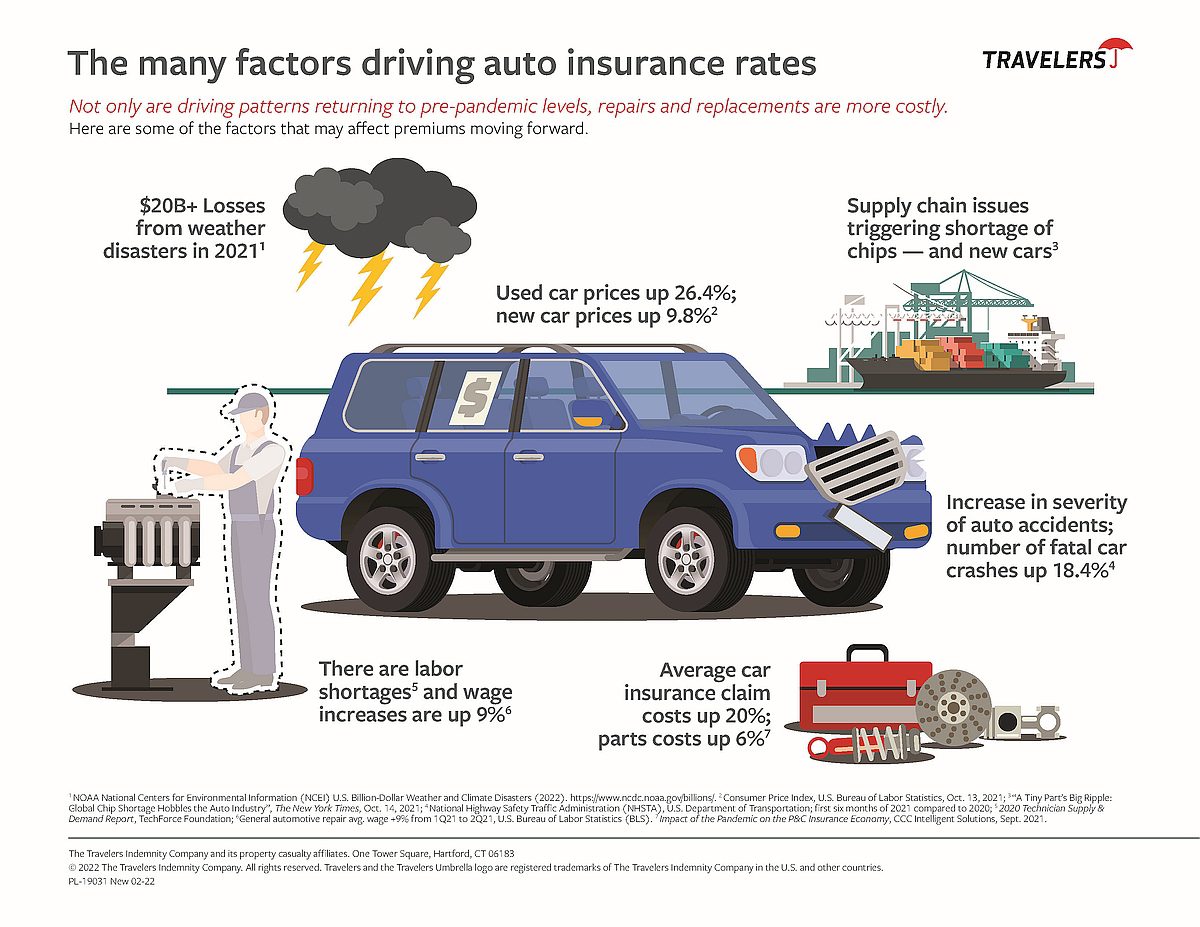 Why Auto Insurance Rates Are Increasing
Auto insurance rates are calculated based on several underlying factors. Age, gender, driving history, vehicle type, and coverage choices are just a few examples. However, 2022 has seen a spike in auto rates, and many other factors are now behind the recent rise. Let's explore some of these factors, and how they may be affecting your premiums moving forward. 
Inflation
Perhaps the biggest driver of higher auto insurance rates is inflation. This includes higher vehicle costs, repair costs, and medical bills. Since auto insurance is designed to pay for costs after an accident, anything that raises these costs is likely to raise rates as well. 
Supply chain disruptions
As we all know, supply chains have been disrupted across the board, and the auto industry has been one of the hardest-hit sectors. Parts are more expensive, labor is more expensive, and as a result, repair costs are more expensive.
Labor shortages
Along with supply chain issues making parts harder to find, labor shortages have made skilled workers harder to find as well. When fewer people do any given job, including vehicle repair and healthcare jobs, pay rates often increase as an incentive.
Changing driving habits
In 2020, COVID put a lot less drivers on the road, producing lower rates and refunds. However, in 2021 we saw a return to pre-pandemic driving patterns, which led to a significant increase in auto accidents and claims. The National Highway Traffic Safety Administration reported an 18.4% increase in fatal crashes during the first six months of 2021 compared to the first six months of 2020 — the highest percentage increase on record!
Cars are more expensive to buy and repair
The price for new cars and trucks have risen significantly, but the used car and truck market saw the most staggering increase. Vehicles are also much more complex than they used to be, which adds to the overall cost of ownership. Even small accidents can cause hundreds or thousands of dollars worth of damage to delicate electronics that require specialized repairs.
Driving has become more dangerous
Car accidents caused by distracted driving has been on the rise for years. Phone use is a common distraction, but drivers are also reading, eating, or being preoccupied with other distractions while behind the wheel. Distracted driving has become so bad that the National Association of Insurance Commissioners has labeled distracted driving an epidemic in the U.S.
What Are Your Options?
Ask about discounts you might be missing
Insurers often offer discounts for things like receiving your bill through email, taking a defensive driver course, or being a consistently safe driver. Ask your agent if you may qualify for a discount.
Increase your deductible
A higher deductible means you'll pay more out of pocket if you need to file a claim, but if you don't drive regularly or can afford the higher payment, it's a guaranteed way to lower your premium. In addition, while you should never cut coverage just to save money, you can elect to drop comprehensive and collision coverage if you drive an older car, as in most cases it doesn't make sense to keep it. 
Get quotes from other insurers
Shopping around for new car insurance quotes is usually the best way to save. At AFS we have the ability to compare your rates with numerous different insurance companies. One of the many advantages to working with an independent agent!
Work with your agent
While many factors are impacting the overall cost of auto insurance, our agents remain committed to ensuring that you have the coverage you need at a competitive price. Should you have any questions at all about your coverage or your rates, please feel free to contact us. We can assess your current coverages, explore possible discounts, and help answer any questions you may have.
---
For more valuable insurance tips and info, please subscribe to our blog!
This material is for general informational purposes only. All statements are subject to the terms, exclusions and conditions of the applicable policy. In all instances, current policy contract language prevails. Products, services and discounts referenced herein are not available in all states or in all underwriting companies. Coverage is subject to individual policyholders meeting our underwriting qualifications and state availability.